Samsung Wireless Charger Duo, EP-P4300
One charger two devices
Simultaneously power up your favorite pair of devices to enjoy together — whether that's your phone and Galaxy Watch or your Galaxy Watch and earbuds. At night, simply place to charge and you'll be set for the next day.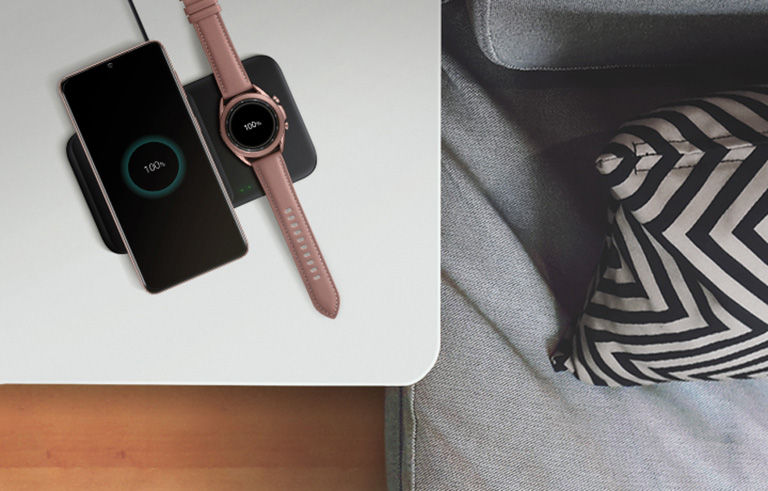 *Charging speeds may vary by device. Actual charging speed may vary depending on usage, charging conditions, and other factors.
The Wireless Charger Duo is compatible with a wide range of devices. Easily charge a variety of your favorites from your phone to your watch.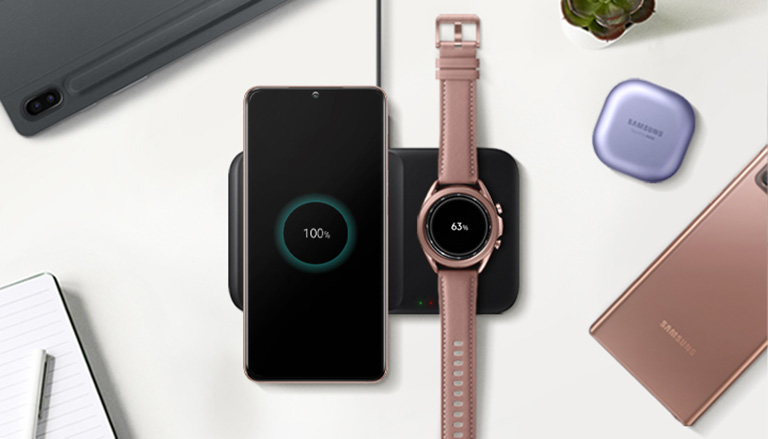 *Supports charging for Qi-enabled smartphones, Galaxy Buds, Buds+, Buds Live, Galaxy Buds Pro, AirPods 2, and AirPods Pro earbuds
,
and Galaxy Watch3, Active2, and Active smartwatches.
Galaxy Watches are right at home
Charge your Galaxy Watch in a snap with its dedicated placement. This spot features an interior magnet on the right side, ensuring the watch fits snugly into place as you set it down.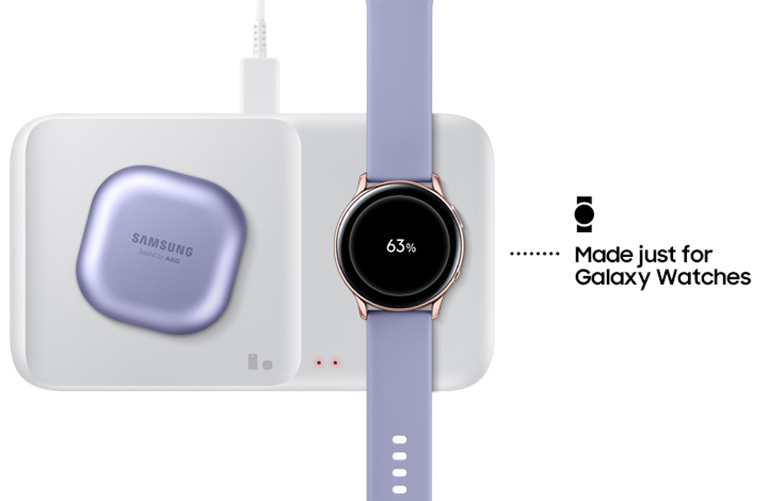 *Supports Galaxy Watch devices only.
*Does not support Galaxy Fit products.
Get the charge you need quickly, thanks to up to 9W of Fast Charging support. This boost of battery is compatible with USB PD and Adaptive Fast Charging travel adapters for an easy pick-me-up.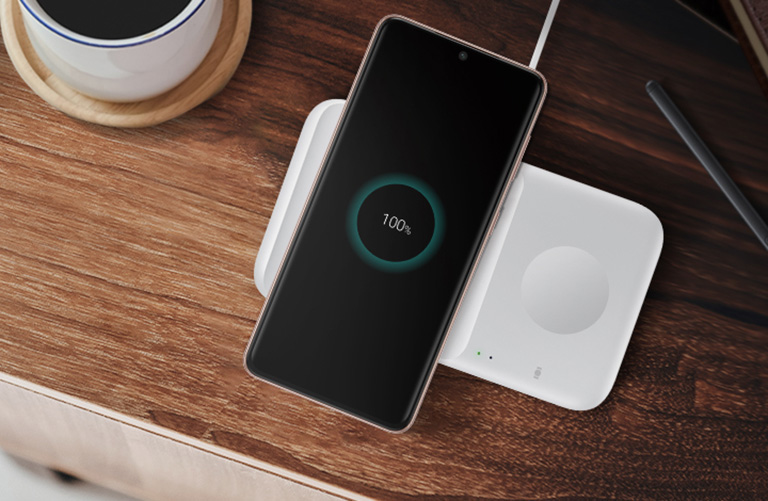 *Fast Charging only available for smartphones. Supports Galaxy Note5 and later or iPhone 8 and later.
*Charging speeds may vary by device. Actual charging speed may also vary depending on usage, charging conditons and other factors.
*Compatible Apple devices with wireless charging feature support up to 7.5W fast charging.
*USB Power Delivery (PD) adapter and Adaptive Fast Charging (AFC) adapter each sold separately.
*Power Delivery (PD) and Adaptive Fast Charging (AFC) are both fast charging protocol for Samsung devices.
Dim for a good night's sleep
No need to let the light disturb your beauty rest. The Friendly LED not only intuitively changes color to show your devices' charging status, it can also be set to dim so it doesn't interrupt your sleep.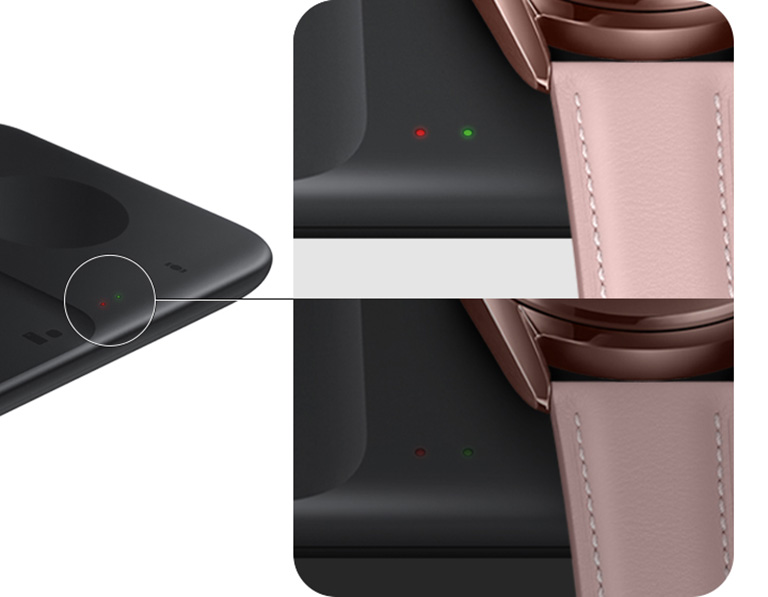 *LED light dimming can only be controlled via mobile phone (from Galaxy S10 and Note10 series onwards).
*Dimming schedule can be set in the Settings menu to turn off Fast Wireless Charging at a specific time and dim the LED light.
Leave your phone in the case
Your phone charges even while protected. The charge can reach through lightweight cases, so there's no need to fumble with taking off the case — simply place and charge.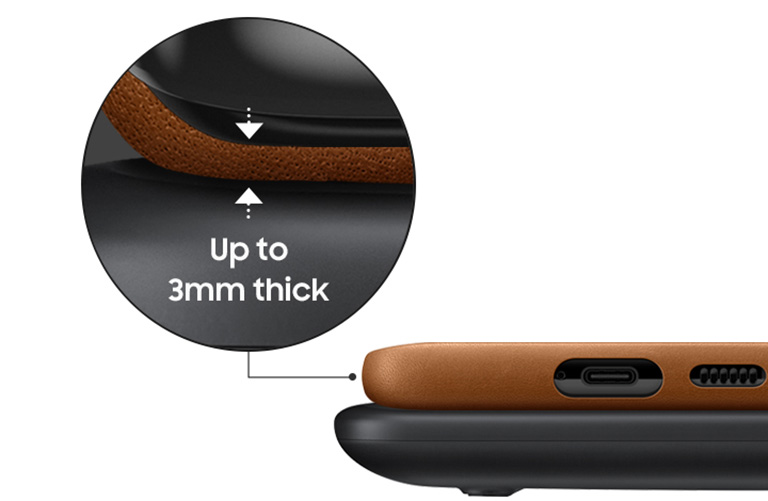 *Requires device to be placed in the center of the left pad and aligned properly with the charger.
*Charging tests were conducted only with Samsung products
.
*Case thickness over 3mm may cause wattage to drop and produce heat, resulting in longer charging times.
*Charging time may vary by charging conditions and case materials.
*Device is recommended to be placed in center
alignment.