Best 20W Adapters For iPhone 12,12 PRO, 12 PRO MAX in Pakistan
Switcheasy PowerBuddy 20W Wall Charger
Up to 20W output, support Apple's latest iPhone 12 fast charge standard. Small size, no more taking up space on adjacent power-strip slots. Dual-port (USB-C/USB), one charger for two devices.  Foldable-plug prevents scratching. Convenient to carry and store. Frosted surface material, resistant to dirt and fingerprints.
Charge 2 Devices at the Same Time
Compatible with smartwatch/ smartphone / tablet
1;
Anker Nano iPhone Charger
Designed for iPhone: Anker Nano is designed to provide the maximum charge to iPhone 12.
Unrivaled Speed: Charge iPhone 12 and previous iPhone models up to 3× faster than with an original 5W Charger.
Space-Saving Design: At 50% smaller than a standard iPhone 12 USB-C charger, Anker Nano provides plenty of power while saving space in your bag or while plugged into a wall outlet.
2;
AUKEY Omnia Mini 20W USB-C Charger
If you want to keep your chargers as small as possible, the Omnia Mini 20W USB-C Charger is the perfect fit.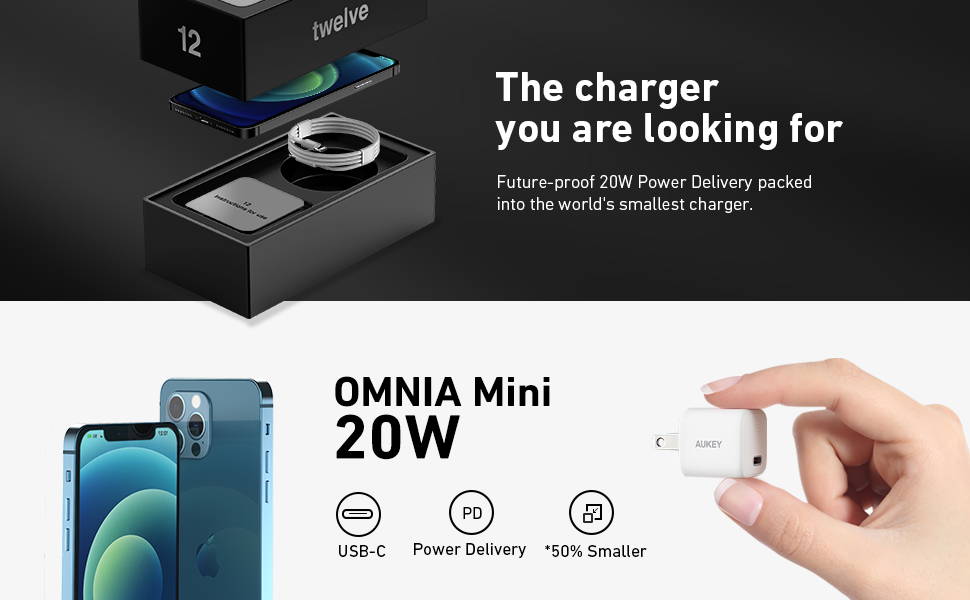 High-Speed Charging: 20W USB-C Power Delivery fast-charges your iPhone 11 Pro Max / SE or another device that supports USB Power Delivery. Also supports Quick Charge 2.0 for a wide range of Android devices
Ultra-Portable: Extremely compact & travel-friendly design ensures maximum portability wherever you go. Handy for home, office, and on vacation
Safe & Reliable: This UL-certified charger with built-in safeguards protect your devices against excessive current, overheating, and overcharging
Broad Compatibility: Fast charging works with PD and Quick Charge compatible devices including iPhone 11 / 11 Pro / 11 Pro Max / SE, Google Pixel 4 / 3 XL, LG G7 / V50, AirPods Pro, Switch, 11"/ 12.9" iPad Pro, iPad Air (3rd Gen), iPad Mini (5th Gen), AirPods Pro and more
AUKEY OMNIA Mini 20W USB-C PD Charger
3.20W USB-C Power Adapters
Apple obviously launched its own 20W charger for the launch of the iPhone 12. If you want to stick with Apple because you feel like it's the safest bet, this is the USB-C charger to get for your iPhone 12 or iPhone 12 Pro.
4. AUKEY Focus USB-C Charger
Dynamic Detect Augmented with AUKEY Dynamic Detect the USB-C port can output the full power of the charger with 30W Power Delivery when used on its own and 18W Power Delivery when both ports are used together
30W 2-Port Compact USB-C Apple Fast Charging Bundle with 18W Power Delivery and 12W USB-A PowerIQ. Get 50% charge in just 30 minutes with included USB-C to Lightning Cable
5; RAVPower 30W 2-Port Fast Charger
20W PD 3.0 Fast Charging for iPhone 12: Blazing fast speeds to power up iPhone 12 via the USB C output port, efficiently from 0 to 50% battery in only 30 minutes, saving you plenty of time