Samsung Galaxy Watch6 40mm Best Price in Pakistan.
What's in the box

Galaxy Watch6 40mm (Bluetooth)
Galaxy Watch6 Sport Band
Fast Wireless Charger
One band included. Availability of models and colors may vary by country or carrier. Image simulated. The actual product may differ from the image. Galaxy Watch6 does not include a wall charger. Samsung is trying to eliminate unnecessary waste by prioritizing compatibility between product components.
Samsung Galaxy Watch6 40mm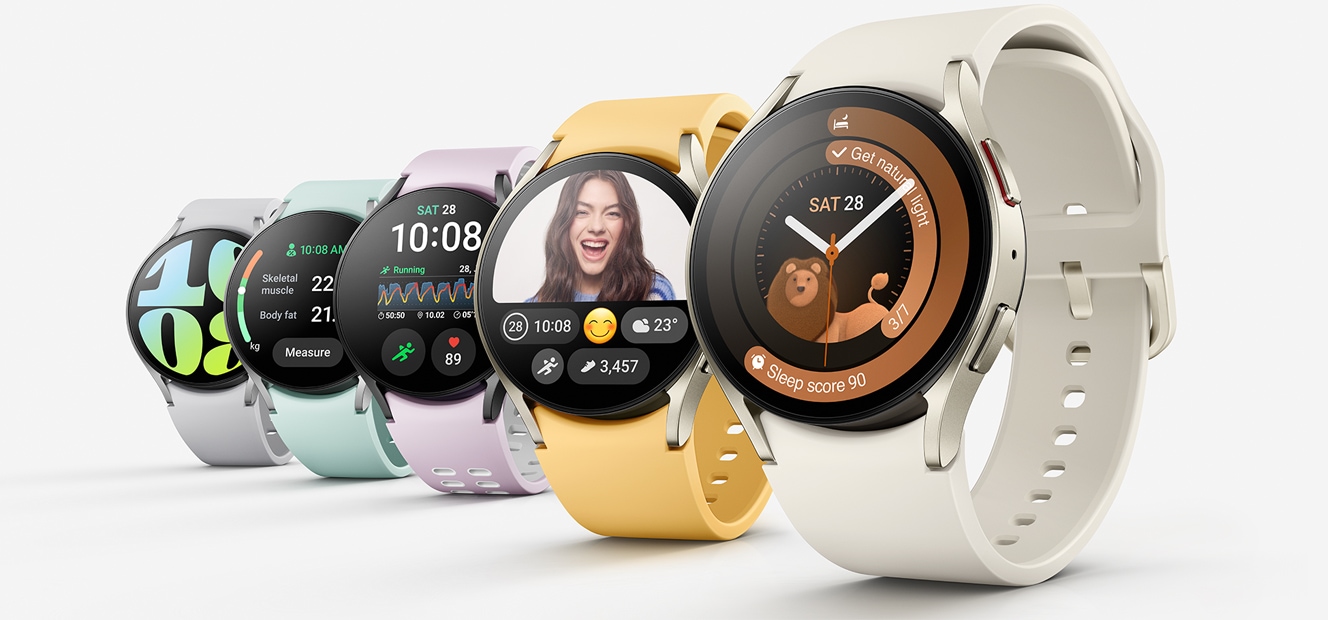 The watch that knows you best is back with a more personalized health experience and better yet, upgraded sleep tracking. Start your day with a good night's sleep with Sleep coaching now available on Galaxy Watch6.
Galaxy Watch6Start your everyday wellness journey
Be prepared with Cycle Tracking
Get in tune with your health and body. Cycle Tracking Powered by uses your nightly skin temperature from your watch, measured while you sleep, to predict the dates of your period and other cycles. Plan and live life to the fullest with Galaxy Watch6.17
A heart monitoring package that watches over you
The built-in PPG sensor periodically measures heart rate and heart rhythm while you wear your Galaxy Watch6, and will alert you if your heart rate is too high or too low. It will also send you a notification if it detects an irregular heart rhythm, along with a prompt to take an ECG to examine your heart rhythm in more detail.18, 19, 20
GUI of ECG being measured can be seen, with the measured time changing from 26 to 31 seconds and the bpm changing between 72 and 77. Under the numbers is a moving graph illustrating the heartbeat.
Know your body inside and out with BIA
Skip the clunky machines – collect data on your body any time you like, with the Bioelectrical Impedance Analysis (BIA) sensor on your Galaxy Watch6. These measurements will help you take a data-driven approach to monitor your body and health better and set personalized fitness goals.25, 26, 27
Safety features for your peace of mind
Your watch is on standby in case of an emergency. Should you take a tumble, Fall detection should catch it and ask if you need help. For other emergencies, simply press the home button five times to send SOS to emergency services. When help arrives, quickly access your Medical info from the lock screen with a single tap.28, 29, 30, 31
Daily activity screens can be seen, with the progress bars advancing.
Exercise tracking – Monitor your fitness journey
Record each of your physical accomplishments, and check all of your progress with Galaxy Watch6. Track your movements for over 90 workouts, including indoor swimming and yoga, or you can even create your custom workout. Forget to hit start? Your watch will automatically recognize and record select workouts such as running, walking, and now, even cycling, so you don't lose precious data.27, 32, 33
Different workout icons can be seen. In the middle is the cycling icon with the person sitting upright. The person begins cycling and slowly bends forward as other workout icons appear from the right.
Set your perfect intensity with personalized HR Zone
Set a personalized HR Zone. Or just start running and Galaxy Watch6 will measure your heart rate based on your fitness capacity and optimize an HR Zone that suits you. Once set, you can get notified when you enter your goal HR Zone and make sure you're still in the zone as you move, run, and work out to your beat.34
Snap remote
Galaxy Z Flip5 photos from your watch
Pair your watch with Galaxy Z Flip5 to capture the healthy you up close or from a distance. Galaxy Z Flip5's Flex mode and Camera Controller let you easily switch between photo and video mode, or zoom in and out, all from the comfort of your wrist. Then tap the shutter button on your watch to take a pic.35, 36
On the right is Galaxy Z Flip5 on Flex mode. On the left is Galaxy Watch6 displaying the same screen as Galaxy Z Flip5, illustrating the Camera Controller feature.
More than just a watch
Way more than just a clock. With Galaxy Watch6, you can still text, call, stream music, and more, even without your phone. Stay productive and carry on with your day.37, 38
Call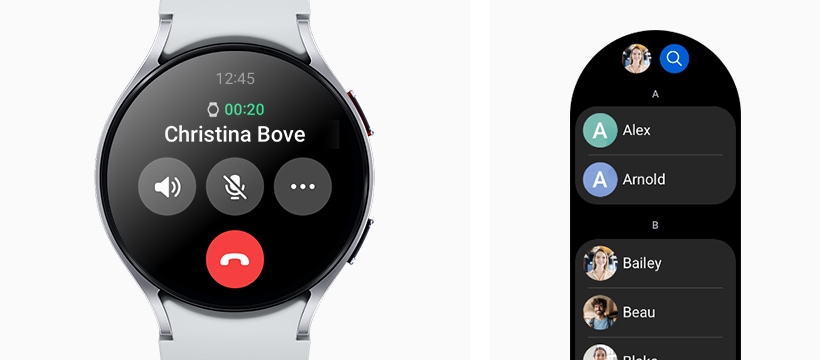 Text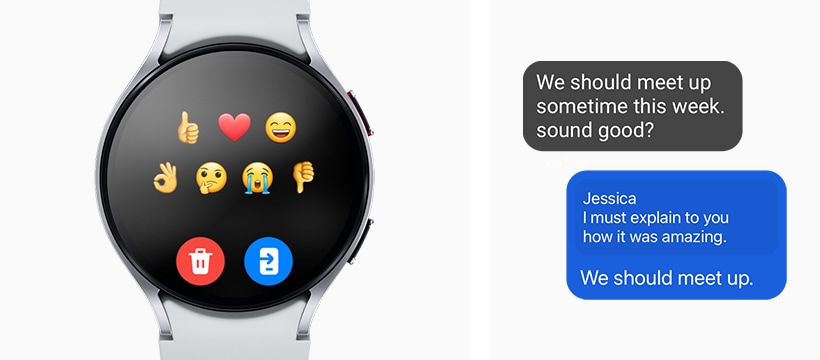 Stream Music
International Roaming keeps contacts close
Explore the world without getting lost. International Roaming on Galaxy Watch6 allows you to use the map to find your way to landmarks, all from your watch. If you do get into trouble, no need to worry — you'll be able to make calls or send texts to ask for help.39, 40
Samsung Wallet is available on your watch
Don't fumble in your pockets or rummage through your bag looking for cash or cards — you've got Samsung Wallet for that. Now you can pay and ride without taking out your phone because everything you need is just a swipe or tap away.41
Customize to suit your personality
Make Galaxy Watch6 uniquely your own. Choose from a wide collection of bands in different styles and materials. You can also customize your watch face with your favorite colors, compilations, designs, or even photos of your pet. The only limit is your imagination.4